Last summer, my friend decided to come for a week-long beach vacation. That's one of the advantages of living near the ocean – you get a lot of loved ones visiting! She and her husband brought their five kids. Yes, you read that right. FIVE! My house was bursting at the seams and I loved every moment of it, especially baking tons of cookies and other treats so there was always something tasty waiting for them when they got home from the beach (here's another recipe I made while they were here).
I loooooove butter cookies. You know, the kind you get in the blue tin? Usually, I'm a chewy cookie person, but when it comes to butter cookies, I love the crunch.
Add some chocolate icing? I'm so there. I just had to repin this butter cookie recipe on Pinterest and give it a try. Who better to test a cookie recipe on than a flock of kids?
This is really two recipes (both from Add a Pinch) in one – the cookies and the icing. And really, even though I love the icing on top, you could make these plain as well and they'd still be delicious.
Because my house was filled with guests, I didn't have time to take pictures every step of the way. So, this will be a short post! Here are a few tips to keep in mind with this recipe:
Smaller, bite-sized cookies are perfect for large groups, but you can make these larger as well. If you do, you might have to adjust the time to cook a little longer.
Use actual butter. A lot of times, I substitute margarine in my recipes, but these are butter cookies. And yes, they use a lot of butter, which is part of the reason I prefer smaller cookies…less guilt!
Allow the cookies to cool COMPLETELY before adding the frosting. if you don't, it will melt and slide off.
Don't over-mix the cookies.  You want the ingredients to be just barely combined.
The original recipe for the icing called for espresso powder, which I never keep in the house, so I don't include it. But if you do keep espresso powder on hand, you could add 1/2 teaspoon to a teaspoon to the recipe.
Oh, and one final tip: yes these cookies and the icing both freeze well! So you can make a double or even triple batch to keep some cookies on hand all the time. Try this: freeze the cookies and icing separately, putting the icing in small bags, enough for a dozen cookies. That way, you can get out a small batch and ice them instead of having to thaw the entire tub of icing.
Mmm…don't you want to just lick off that icing? 😀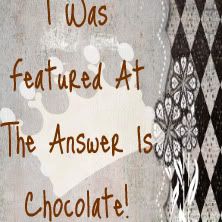 Iced Butter Cookies
Ingredients
Cookies
2 cups flour
½ teaspoon baking powder
¼ teaspoon salt
¾ cup butter, softened
1 cup sugar
1 large egg
1 teaspoon vanilla
Chocolate Icing
¾ cup butter, softened
½ cup cocoa
2½ cups confectioner's sugar
¼ cup milk
1 teaspoon vanilla extract
Instructions
Whisk together the dry cookie ingredients.
Cream cookie butter and sugar, then add egg and vanilla.
Slowly add the dry ingredients to the wet ingredients and mix until just combined.
Roll into balls and press onto cookie sheet with your palm, until about 1 inch thick.
Bake 11 minutes at 350 degrees, or until lightly browned at edges.
While cookies are baking, cream together icing butter and cocoa.
Add sugar and milk a little at a time, mixing thoroughly every time you add more ingredients to create a light and fluffy buttercream.
Add vanilla and mix for an additional minute to combine. If mixture seems too wet, add more sugar; if too dry, add more milk.
Allow cookies to cool completely before topping with icing.
The following two tabs change content below.
Allison is one of the co-founders here at The PinterTest Kitchen. She also works as a content marketing consultant and freelance writer - find out more at AllisonBoyer.com.